The museum of egyptian antiquities (Museo Egizio) was founded In 1824 by king Carlo Felice, who assumed Bernardino Drovetti's collection, which consisted of 5.628 egyptian exhibits.
First in Europe and second in the world only after the Cairo museum (Egypt), the historical collection is placed nowadays in a jesuit school, which was built by architect Guarino Guarini in 17° century. The Building was known as "Collegio dei nobili" (High College) but in 18° century it became center of Science Accademy.
"Between 1903 and 1937, the archaeological excavations conducted in Egypt by Ernesto Schiaparelli and then by Giulio Farina brought some 30,000 artefacts to Turin" (From the Museum History).
2015: "An impressive work of renovation and expansion of the museum. The exhibition path extends for 2 linear kilometers and takes up 10.000 square meters of space – including 600 square meters devoted to temporary exhibitionsand comprises a conference room, a cafeteria, the bookshop, information and services desks and the offices" (From the Museum History).
Thanks to the Minister of cultural goods and activity, on 6th october 2004 was born the foundation Museum of Egyptian Antiquities, joined by the Region of Piemonte, the Province of Turin, the City of Turin, San Paolo and the CRT foundation.
Time Egyptian Museum. Visiting Hours
From 09.00 am untill 02.00 pm (monday)
From 09.00 am untill 06.30 pm (from tuesday untill sunday)
Closign days Egyptian Museum: 25th december.
Prices Egyptian Museum. Entrance Fees
15,00 Euros – full price
12,00 Euros – half price (over 70; journalists)
3,00 Euros – between 15 and 18 years
1,00 Euros – age 6 to 14 years
free ticket – untill 5 yeras; disabled (and attender); birthday
For guided tours, individuals and schools visit the web site.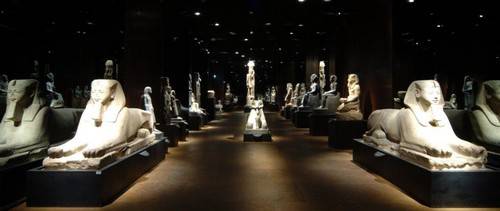 Location Egyptian Museum in Torino
Egyptian Museum – via Accademia delle Scienze 6, Turin (Italy).
How to arrive to the museum: See Egyptian Museum map (on Google Maps).
Info and reservations
obligatory booking for groups and schools
contact: tel 011.5617776
email info@museoegizio.it
web site (english version): www.museoegizio.it/en.
Versione italiana: Museo Egizio di Torino. Orari e tariffe.
Traduzione a cura di Mariagrazia De Maio